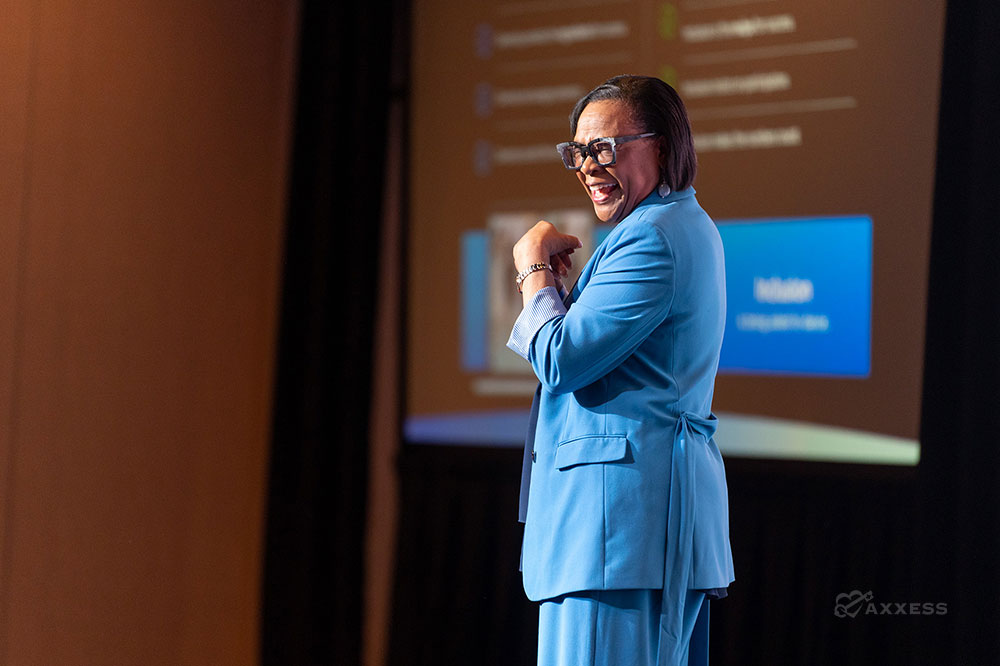 Dallas Mavericks CEO Cynt Marshall held a dynamic session on leadership agility and the importance of culture at the 2023 Axxess Growth, Innovation and Leadership Experience (AGILE).
Marshall asserted the key to leadership agility is developing an "all-in" approach.
"We know what agility is all about: the ability to move easily and quickly," Marshall said. "In order to be agile, I believe that it's about 'all-in' leadership."
Marshall posed questions about leading with intent, integrity, inclusion, insight and inspiration, encouraging audience members to consider these elements when developing an all-in leadership plan to maximize leadership agility.
---
Leading With Intent
What will you be intentional about?
How will you make the vision, values and plan clear?
---
Marshall laid out the 100-day plan she used to transform the culture of the Dallas Mavericks.
"We were very intentional, so the first thing I did was put together a vision that said we would set the global standard for diversity and inclusion in the whole industry."
She coined the acronym CRAFTS as a guide:
Character – Always do the right thing.
Respect – Be nice to people.
Authenticity – Do you.
Fairness – Equity matters.
Teamwork – Ain't no mountain high enough.
Safety – Not accidental but intentional (physical and emotional).
---
Leading With Integrity
How will you model good character?
Are you going to do the right thing or just do things right?

Leading With Inclusion
How will you foster inclusion?
Who will you "teach to dance"?
---
Marshall identified inclusion as the most critical element of leadership agility and culture.
"I like to lead with inclusion because I believe that is the most important element. Diversity is about the mix. It's about the ingredients. But inclusion is about, 'What do you do with that mix?' Diversity is a fact. Inclusion is a choice. Diversity often is about counting the numbers. But inclusion is about making the numbers count."
To illustrate this, Marshall said, "Diversity is being invited to the party. Inclusion is being asked to dance."
---
Leading With Insight
What insight do you need from others?
How will you ensure that every voice matters?

Leading With Inspiration
Where will you look for inspiration?
What's your purpose?
How will you inspire others?
---
To underscore the importance of leadership agility and the positive outcomes that can be achieved, Marshall referenced the creation, led by Axxess Founder and CEO John Olajide, of the first-ever diversity, equity and inclusion council on the Dallas Regional Chamber. Marshall and Olajide partnered in this effort following the murder of George Floyd in 2020.
"This was our agility opportunity, and you have these opportunities every single day," Marshall said. "You have the opportunity to respond and to lead with intent, to lead with inclusion, to lead with insight, to lead with inspiration. This was our inspirational moment where we got a chance to lead."
With more than 250 attendees, more than 40 sponsors and countless connections made, AGILE 2023 was a massive success for everyone. Check out the recap video and mark your calendar for AGILE 2024, April 21-24 in Dallas.