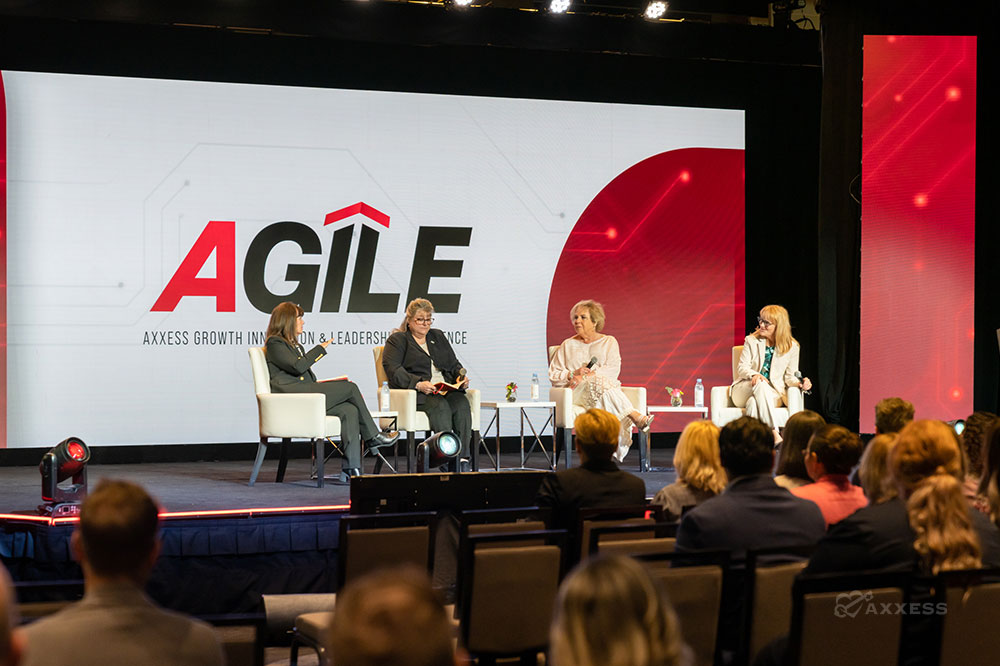 Care at home leaders have expressed concerns related to recruitment and retention of staff, regulatory challenges and reimbursement adjustments in 2023. A panel of industry experts spoke on achieving success in today's regulatory environment at the 2023 Axxess Growth, Innovation and Leadership Experience (AGILE).
Marcylle Combs, BS, MS, RN, CHCE, owner of MAC Legacy, moderated the session with panelists Jennifer Kennedy, EdD, MA, BSN, RN, CHC, Vice President of Quality, Standards and Compliance at CHAP; Sara Castillo, BSN, PHN, MSN, Chief Quality Officer at AccentCare, Inc.; and Arlene Maxim, RN, HCS-C, Senior Vice President of Clinical Services at Axxess.
The panel focused on how to overcome industry challenges by outsourcing tasks, focusing on staff recruitment and retention, leveraging technology solutions, getting involved with state and national associations and implementing rigorous skills assessment and onboarding initiatives.
Outsourcing Tasks
With recent payment cuts from the Centers for Medicare and Medicaid Services (CMS), all the panelists encouraged organizations to identify tasks that can be outsourced to lessen staff burden and costs.
"Outsourcing many of the things that you do now will probably be advantageous to you with revenue, as far as not having to have a full-time coder in house, not having to have a full-time person who does [quality assurance], …[and] looking at staff relief agencies for some of your staff," Maxim said.
Staff Recruitment and Retention
Many organizations are also working to improve their staff efficiency, recruitment and retention. Castillo spoke on the value of leveraging leadership training and development programs to cultivate great leaders and a strong company culture.
"The one thing that stands out as extremely important in the entire realm of this is leadership – finding great leaders out there and developing your leaders," Castillo said.
Maxim agreed, saying, "We're going to have to train even home health aides to work at a level that they've never worked before. Then we have to talk to the regulatory folks to make sure that they are going to allow them to work at that level. We have a lot of work to do politically, and I would encourage everybody to get involved with their national associations and their state associations and let them know how we're in a real crisis and we're going to have to do something about that."
Kennedy expanded on the value of purposeful recruiting efforts, such as considering what potential employees of different generations are prioritizing. Millennials are expected to make up 75% of the workforce in 2025, with Generation Z soon to follow.
"[Millennial and Generation Z employees are] looking for specific things," Kennedy said. "They're looking for flexibility in staff, work-life balance, they want to see a career ladder laid out right at the interview…but they're also looking for an environment that has a culture that they feel good about clocking in to."
Staff Training and Education
In response to Operation Nightingale, all panelists expressed deep concern for the safety of patients and the quality of care being provided by nurses without proper training.
"I think that you all are going to have to be really, really careful over the next several years…of who is going out and providing care to your patients," Maxim said. "Your clinical skills assessment piece is going to be a big part of that."
She suggested putting new staff through certification programs, assessing their skills and creating more rigid criteria for onboarding staff to protect the safety of patients.
Kennedy also stressed the significance of checking clinicians' resumes closely.
"Competency validation is huge," Kennedy said. "You have to make sure that you're validating the competency of these nurses and that they meet the standard that you have set in your organization to ensure quality, safe care for your patients."
Technology and the Future of Healthcare
The panelists encouraged everyone to start adjusting their practices now and using technology to prepare for changes throughout the care at home industry.
"Make sure that you start to pivot because you can't do things the way you've always done them," Maxim said. "It's not working. CMS knows it's not working, so they're cutting everything. Get your cost reports done by somebody who understands home healthcare…Make sure you have an [electronic medical record] that's keeping up with everything, that you're not trying to find the least expensive piece of technology, but that you are finding a piece of technology that's going to help you care for those patients properly. Technology is where you're going to have to go."
With more than 250 attendees, more than 40 sponsors and countless connections made, AGILE 2023 was a massive success for everyone. Check out the recap video and mark your calendar for AGILE 2024, April 21-24 in Dallas.