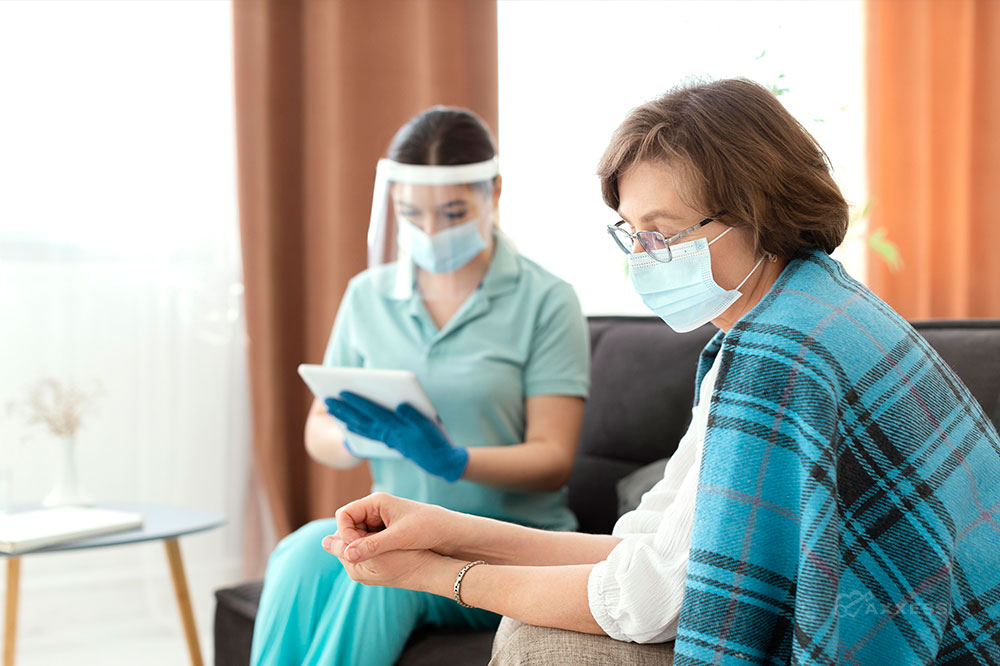 In 2019, the Centers for Medicare and Medicaid Services (CMS) released the CY 2020 Home Health Final Rule, which introduced the new case-mix adjustment methodology, the Patient-Driven Groupings Model (PDGM).
This new billing policy went into effect in 2020 and was immediately followed by the COVID-19 pandemic, overwhelming already stressed home health organizations.
Using claims data submitted to CMS from January through November of 2020, representatives of Dobson DaVanzo & Associates, LLC presented to the Partnership for Quality Home Healthcare their findings on the impact of PDGM and COVID-19 on Medicare home health in 2020 and what the identified trends indicate.
The Behavioral Adjustment Doesn't Add Up
Across the board, with case volume, total payments and per-case payments, home health organizations received less reimbursements in 2020 than CMS projected.
The average home health case payment in 2020 was estimated at $1,740, a number missing the projected mark by 3.7%.
Total home health case payments distributed in 2020 came out to nearly $1 billion less than anticipated.
Home health organizations were actively against the automatic 4.36% behavioral adjustment that resulted in a reimbursement decrease, and these disappointing numbers don't help CMS's case. However, considering CMS used past data and trends to formulate a reimbursement estimate for 2020, and it still fell short, COVID-19 is most likely to blame.
Yet when studying the trends, another culprit emerged.
Learning a New Way to Operate
For months preceding the PDGM transition, home health thought leaders worked hard to educate the healthcare industry on the new billing requirements. This proved to be a monumental task, as home health billing had not changed since 2000.
Up until the implementation of PDGM, home health organizations planned their operations around therapy thresholds that had been set, not around the clinical aspects of care.
PDGM changed all of that. The new billing requirements cut home health payment periods in half, increased the number of case-mix weights, included behavioral adjustments and required claims to include more details.
However, there were still organizations that:
1. Did not believe the transition to PDGM was going to happen.
2. Thought the transition would be postponed.
3. Did not seek education or did not understand the PDGM education provided.
A lack of PDGM education or understanding is likely another cause of the disappointing reimbursement data. Additionally, the Low Utilization Payment Adjustment (LUPA) rates that are 15.2% higher than expected, the largest deviation in all projections, support this assessment.
Fast Facts With PDGM Reimbursement
• A Shorter Payment Period: Organizations need to remember that LUPA rates are now in existence within the 30-day payment period instead of 60 days. Gone are the days of scheduling nurses 1xwx9. This causes a LUPA problem that organizations are still experiencing.
• The Threshold Is Different: It is important to understand that the LUPA threshold established is the number of visits that must be completed to avoid a LUPA. During the Home Health Prospective Payment System (HH PPS), CMS indicated anything less than five visits was the threshold. This meant that at least four visits had to be completed to avoid a LUPA. With PDGM, the different LUPA rates are specific. For example, if two is the LUPA rate, then at least two visits need to be completed.
• Therapy Thresholds Are Eliminated: The therapy thresholds set for the past 20 years have gone away; a therapy visit has no more financial value than a nursing visit.
As the home health industry travels into the world of value-based purchasing, PDGM offers the opportunity for organizations to be paid for quality versus quantity. While the claims data presented has been offset by the COVID-19 pandemic, it still demonstrates the need for organizations to better educate their staff, helping to avoid a loss in reimbursement and, ultimately, a decrease in quality patient care.
Axxess Home Health, a cloud-based home health software that stays up to date with CMS regulatory changes, provides home health organizations a real-time claims processing center that automates claims processing so they can get paid faster.