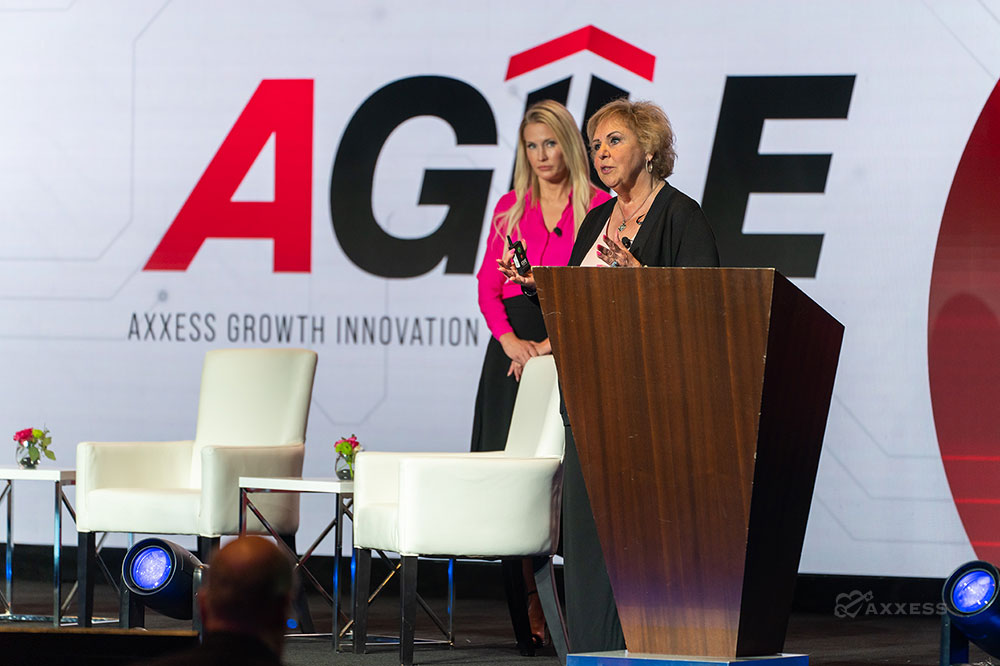 Medical research suggests 250,000 to 400,000 deaths annually are caused by medical mistakes in hospitals. Poor provider communication or sharing inaccurate information often contributes to those deaths. In the care at home industry, these potential errors can be addressed as early as the start of the intake process.
In an education session at the 2023 Axxess Growth, Innovation and Leadership Experience (AGILE), Therasa Bell, CEO and Chief Technology Officer of Kno2, and Arlene Maxim, RN, HCS-C, Senior Vice President of Clinical Services at Axxess, discussed how to transform the intake process with meaningful connections to improve patient outcomes and achieve success in value-based purchasing.
Inform, Confirm and Enrich
Bell encouraged organizations to revamp their intake process by following these three steps:
Inform: Allocate appropriate staffing on the intake team to gather as much data about the patient as possible before a clinician goes into the home. This creates a warmer experience for the patient.
Confirm: When clinicians visit the patient's home, they should confirm the data from a clinical perspective. This confirmation should involve the patient, caregivers, family and the rest of the healthcare team.
Enrich: Clinicians visiting patients can spend more time providing direct care that is specific to their needs and preferences.
"Asking fewer questions of that patient is going to make them so happy," Maxim said. "If you can get all of that information and make sure your team members have all of that information, the patient's going to be much happier and probably going to give you increased scores in your CAHPS [Consumer Assessment of Healthcare Providers and Systems survey]."
Key Components of a Successful Intake
For a patient's intake to be as successful as possible, Bell encouraged organizations to incorporate the following four concepts into their process.
Know Your Patient: Patient information can come from referral sources as well as national data sources, such as the USCDI health information exchange. USCDI includes patient health and demographic information that is shared from electronic medical records connected to the system. This information can populate and inform the start of care assessment, and then clinicians can confirm the data with the patient.

"You're not going to use all the information [from USCDI]," Bell said. "But it's to help inform what you do need and not have to rely on the frailties of the patient or the patient's family during the most difficult time, because now you can have that information on-demand."
Provider Communication: Enable electronic communication with the referring provider and the care team to ensure continuity of care. Referral sources are increasingly connecting their electronic health records to national databases, enabling home health providers to collect patient information in real time.

"I think our intake process is going to have to change tremendously," Maxim said. "You really need to look at bringing your intake department up to speed so that we can get as much information as we possibly can."
Patient Notifications: Using a patient notification system, such as PatientPoint or Collective Medical, enables real-time updates on a patient's medical status. If a patient is admitted to the hospital after hours, the home health team can respond without waiting for the patient or caregiver to notify them.
Electronic Availability: Organizations must be easy to access electronically. Technology partners can help home health organizations maintain connectivity with everyone in the patient's care team.
Keeping these components at the forefront of the intake process can lead to better patient outcomes and success in value-based purchasing.
"What we have to really focus on is coordination of services," Maxim said. "Getting to a discharge that's going to add value to your value-based purchasing scoring is going to be so important – keeping those patients out of the hospital, improving their functional scores and having them be satisfied."
With more than 250 attendees, more than 40 sponsors and countless connections made, AGILE 2023 was a massive success for everyone. Check out the recap video and mark your calendar for AGILE 2024, April 21-24 in Dallas.