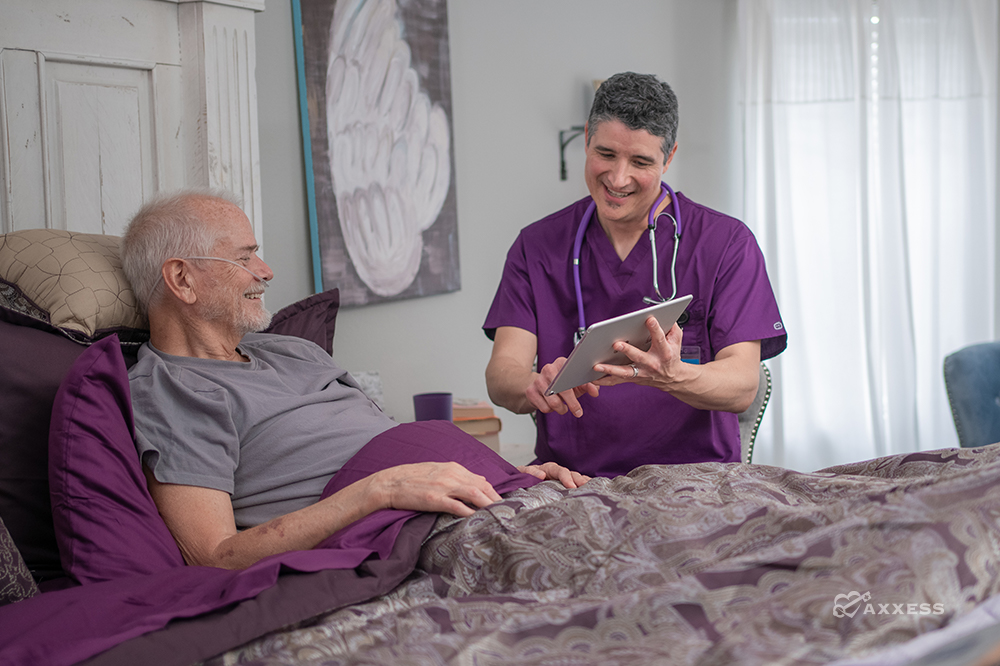 At Axxess, we believe that the future of healthcare is in the home.
The healing power of home speaks for itself, with the preference of being treated in there rising steadily through the years. You may have heard about home healthcare, but how do you know if these options are right for your patients?
Keeping Healthcare in the Home
Home health and hospice are essentially opposite sides of the same coin. Both programs have many things in common, such as:
Providing skilled care in the home for ease and comfort. This reduces the amount of time spent traveling to a healthcare facility for treatment that can be delivered in the home, like wound care, monitoring, drug infusion and medication management.
Offering a range of disciplines, including skilled nursing, physical, occupational and speech therapy. Non-skilled care is also an option, with medical social worker services and aide services available in the home.
Serving as an advocate for the patient, in collaboration with different clinicians and practitioners, for a holistic approach to meet the patient's needs.
Preserving the patient's dignity as they face increasing health challenges in the place they are most comfortable.
Providing the freedom of visitation from family and friends without restriction.
The goal of each program is to provide compassionate care in the patient's home and to heal and prevent further illness or injury. However, these two programs are designed for specific patients and their healthcare needs at a given time. Knowing the function of each program will help you decide when they are needed.
The Home Health Program
Patients receiving home health should have a basic need for those services, which typically involves a considerable amount of taxing effort for them to leave home.
They must have an order for services provided by a physician or allowed provider type that will also supervise the patient's care while in home health.
Patients and their caregivers should show a progression in healing, strength and knowledge of disease management.
Patients may continue to seek curative treatment for the disease process and symptom management.
Home health is meant to be a temporary, rehabilitative assistance program that is short-term.
Sometimes a patient's disease process progresses to a terminal point. At that time, hospice services may be a better option for the patient.
The Hospice Program
Patients receiving hospice services should have a terminal diagnosis of six months or less and meet certain criteria.
They must have two physicians sign an order for hospice services.
Patients must show a progression of the disease process while on hospice services
Hospice care will assist patients and families through emotional and physical changes expected during end-of-life care and preparations for final decisions and funeral arrangements.
No curative measures can be taken while on hospice care.
Spiritual and emotional care is provided for the patient, their family and caregivers. Bereavement counseling is provided for 13 months after the patient dies.
A majority of the medications that the patient stays on, as well as the equipment the patient needs like a hospital bed, will be covered with no cost to the patient or family.
Your Patients Have Options on Where to Receive Care
Home healthcare enables patients to receive the same level of care found in a hospital, right from their homes. Whether a patient needs physical therapy or end-of-life care, in-home care options are available to accommodate specific needs while delivering optimal comfort and quality of life.
Axxess was founded with the mission of providing technology to make home healthcare a reality, bringing access to better healthcare in remote parts of the world.