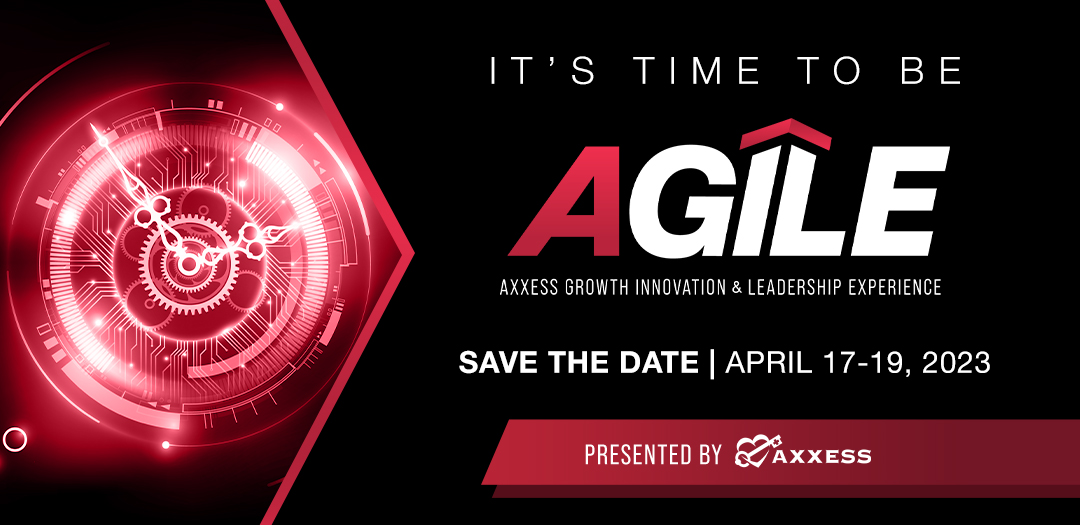 When a business is agile, it can move quickly and easily and is able to understand and adapt on short notice.
Agile care-at-home organizations have teams that jump on board and familiarize themselves with the latest regulatory changes. They're researching innovations in technology that could help their organizations streamline operations and improve care for their patients, and they embrace change.
To survive in the healthcare industry, businesses need to be agile. This is how leaders need to think about designing the future of healthcare delivered in the home, which is why everyone in the industry needs to be at AGILE.
What is AGILE?
AGILE is an acronym for "Axxess Growth and Innovation Leadership Experience."
Axxess is launching this leadership and innovation conference that will bring together leaders in the care at home industry to collaborate on new ways to think about and address challenges. Leaders in home healthcare must anticipate changes and share solutions that help organizations grow and ensure high-quality patient care.
Being at AGILE is about being proactive, not reactive.
The AGILE Experience
This conference will be a full, holistic experience where all attendees will walk away prepared to anticipate and embrace change. The event is for everyone who wants to ensure the future of healthcare is in the home; attendees don't have to be an Axxess user.
Benefits of Attending AGILE
Expand industry knowledge and discover the latest best practices with a mix of general session speakers and individual education tracks. Sessions will address all aspects of care at home, including home health, home care, hospice and palliative care operations, as well as clinical and financial-related topics.
Engage with unique and cutting-edge technologies in the Innovation Showcase, which will feature interactive demonstrations and hands-on learning. Modern technology drives the industry, and AGILE attendees will get behind the wheel.
Engage with like-minded professionals at all levels. Camaraderie within the industry is vital to keeping home healthcare sustainable. Find answers to questions, create new bonds and leave a lasting impression on leaders and executives across the industry.
Earn continuing education units (CEUs) that help clinicians and other professionals perform at the top of their license.
The AGILE conference will be held April 17-19, 2023, at the Renaissance Dallas at Plano Legacy West. Be proactive; register now to save your place for AGILE.