CMS has announced that eligible providers can apply for accelerated payments during the COVID-19 pandemic.
The new Accelerated Payment Dashboard in Axxess Hospice provides forms, resources and information to help agencies apply for accelerated payment.
To access the Accelerated Payment Dashboard, users must have permission to view company setup information.
Company Setup Permission
---
To give a user permission to view company setup information, edit the user's profile and navigate to the Permissions tab. Select View next to the Company Setup permission in the Administration section, and click Save to complete the process.
People tab ➜ People Center ➜ Edit ➜ Permissions tab ➜ Administration section ➜ Company Setup ➜ View ➜ Save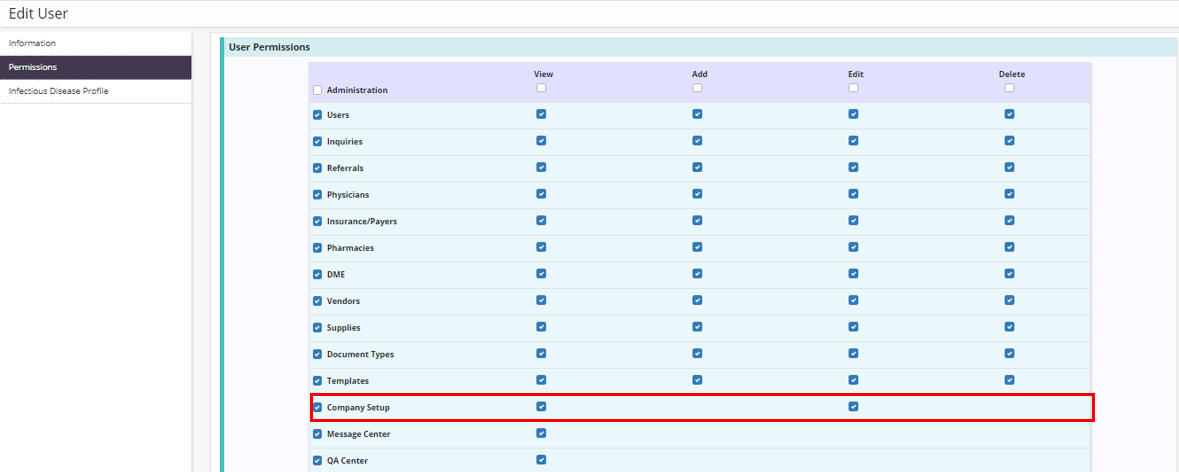 Access the Dashboard
---
Once the Company Setup permission is enabled, users can navigate to the Admin tab and select Accelerated Payment Dashboard from the drop-down menu.
Admin tab ➜ Accelerated Payment Dashboard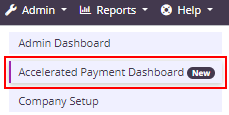 Accelerated Payment Dashboard
---
The Accelerated Payment Dashboard provides useful information about accelerated payments that are available under the CARES Act. Information on the dashboard is uniquely customized to each agency based on the assigned Medicare Administrative Contractor (MAC) and agency-specific data.
On the Accelerated Payment Dashboard, select a branch to apply for accelerated payment. The forms, revenue, and resource sections will automatically update based on the branch's data and Medicare intermediary.
The dashboard is broken down into the following sections:

Forms and Resources: This section provides all forms and resources distributed by CMS related to accelerated payments.
Revenue – Past 3 Months: This section collects payment postings for the selected location over the past 90 days. This data provides a reference point for deciding how much your agency may want to request in your accelerated payments application.
Note: CMS has stated that an agency can request up to 100% of its estimated revenue for the next 90 days. For some agencies, using historical payment information may not be the most accurate way to determine future predicted revenue. This section should only be used as a guideline and is only as accurate as the payment details posted in Axxess Home Health.
Pre-Application Recommendations: This section provides useful tips and guidance published by the intermediary assigned to the selected location.
Eligibility Criteria: This section provides all current eligibility guidelines for the provider's eligibility as published by CMS.
Application Resources: This section provides application forms that correspond to the agency's assigned MAC, and includes the agency's National Provider Identifier (NPI) and Provider Number (PTAN), which are required when submitting the application.
Submitting an Application: This section provides application submission methods accepted by the agency's MAC. Once an application has been completed, users can submit the application using any of the submission methods listed. To submit an application by email, users can click the email address linked in this section to generate an email for application submission.