Miracle Home Health
"Without Axxess, we would not have been able to control our costs and provide excellent care to our patient populations"
Hazel Aro, RN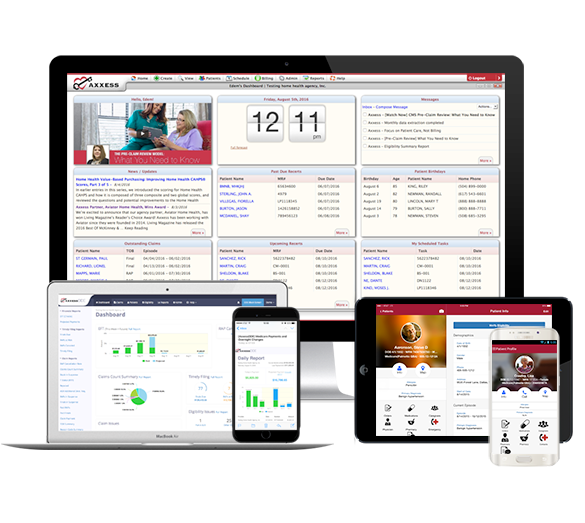 Axxess helps LA-based Business Increase Profitability
In most U.S. regions, the home health care market is competitive. Home health agencies must set themselves apart from multiple regional providers and navigate through referrals, provider-agency relationships and hospital affiliations to broadcast themselves to a wide network of potential referral sources. Take that common condition for agencies combine it with a densely populated major metropolitan area – thick with long-established agencies that have a foothold in the market – and it goes from being competitive to ultra-competitive. This is exactly the scenario in the West Wilshire Boulevard area of Central Los Angeles, California where Miracle Home Health, Inc. is located. Prior to using Axxess, Miracle used paper records in combination with limited software solutions for the back office. They were unable to coordinate patient care in real-time and respond quickly to patient needs. In addition, they were receiving referrals for patients with Insurance providers that they could not bill for. In an already competitive and much regulated industry, Miracle needed solutions. Miracle needed a technology solution that could help them differentiate themselves from their competitors, attract more referrals and grow their business, reduce costs by streamlining their operations, improve patient outcomes and ensure compliance.
Utilizing Axxess, Miracle is able to:
Accept more referrals electronically from Hospitals, physicians, rehab centers and other referral sources.
Verify insurance eligibility before the patient is admitted and ensure they are reimbursed for services provided.
Bill more insurance providers now directly through Axxess.
Communicate easily and effectively with Physicians in the hospital or in ambulatory settings.
Improve internal communication at the agency by allowing staff to easily view a patient's progress and discern the next step required.
Enhance operational efficiency by allowing users to immediately see data that's been entered into the cloud-based system.
Establish a central location – AgencyCore's Dashboard, or Home Page – for viewing and managing daily activities – from patient visits to QA, to generating reports and billing, no matter where users are located.
Create an online learning forum within AgencyCore for patients using medical videos and illustrations to improve caregiver and patient cooperation.
Centralized Quality Assurance Process
One of the most outstanding innovations that has emerged due to their use of the Axxess AgencyCore system, is Miracle has been able to build a Quality Assurance team of trained registered nurses that work from anywhere in the world. This support team can perform all quality assurance work for Miracle in real-time, anywhere at anytime. Not only has this innovation helped ensure excellent care and improved patient outcomes, it enables Miracle to reduce cost and eliminate many of the supply/demand challenges of acquiring nursing talent in the over saturated LA/Southern California market.
"Without Axxess, we would not have been able to control our costs and provide excellent care to our patient populations", explained Hazel Aro, RN., Director of Nursing for Miracle. "Not only do we utilize Axxess for our workflow processes, but we also utilize Axxess' excellent ANCC accredited training programs to keep our staff updated about the numerous changes in home health industry," Aro stated.
A Promising Outlook for Home Health Care
As more home health agencies adopt integrated management solutions like AgencyCore, it stands to reason that the quality of home healthcare will increase and patient recovery times will accelerate. With customers in all states nationwide, Axxess' innovative technology continues to help home health agencies like Miracle. Currently Axxess is used by professionals to provide quality health care to over 2 million patients.