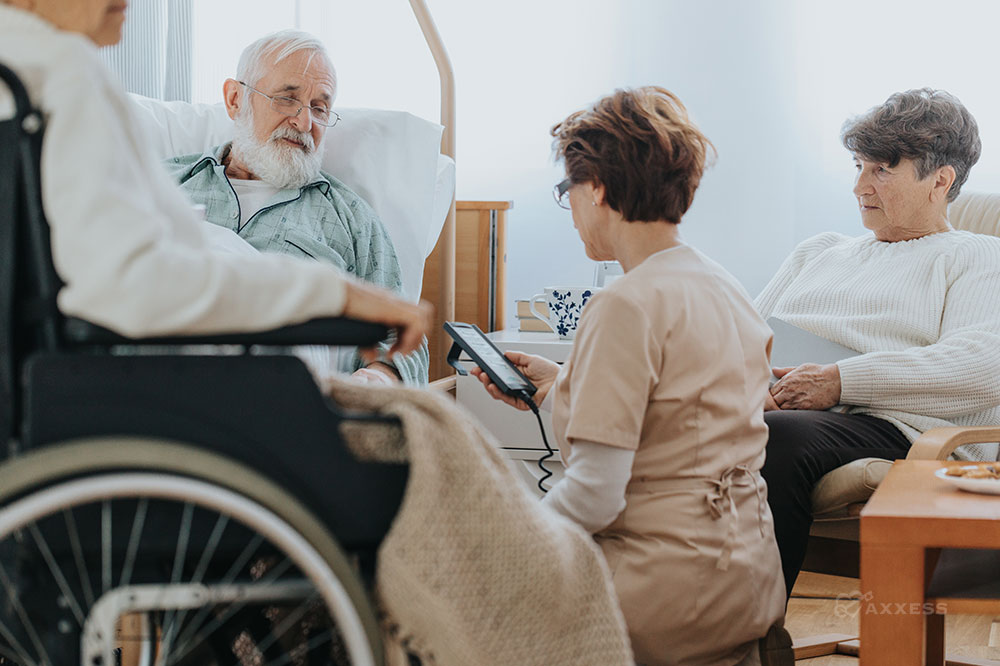 Volunteers are the heart of hospice care. In fact, in the United States hospice care began as a volunteer-based movement.
Volunteers are a vital part of the interdisciplinary team (IDG), a Medicare requirement under the Conditions of Participation. A minimum of 5% of total patient care and admin support must be provided by volunteers.
While in-person volunteer work is slowly re-emerging with safety protocols in place, hospice organizations should not overlook the value of digital volunteer work.
The Hospice Volunteer Program
Most hospice programs employ a staff person who leads and manages the volunteer program. This person will attend the IDG meetings on behalf of the volunteers and report out accordingly.
Due to their direct contact with patients, your hospice volunteer program should include rigorous mandatory training before they visit patients. Many programs spend hours teaching volunteers the hospice philosophy of care, ensuring they understand the holistic nature of hospice care and the physical, emotional and spiritual issues that arise with hospice patients.
Because these patients are experiencing chronic and life-limiting illnesses, volunteers are trained on emergency preparedness and universal precautions and procedures.
They must be made aware of the clear boundaries with patients and their families, as well as tips for effective communication, especially in dealing with sensitive subjects like grief and loss.
Only once your volunteers are thoroughly trained should they be allowed to contact patients. Many hospice volunteer program leaders use an electronic medical record (EMR) to keep track of volunteers and keep a record of their activities and hours. This is especially helpful in survey preparation, as these hours are required.
What Do Hospice Volunteers Do?
Hospice volunteers provide a wide range of services that are not necessarily all patient-facing.
Patient volunteers:

Sit/visit with the patient to provide companionship
Sit/visit with the patient while loved ones run errands or need respite
Eleventh-hour volunteers – Sit with the patient when they are actively dying
Light housekeeping – Make sure the home is safe for the patient
Run errands for family – Pick up prescriptions, grocery runs

Non-patient volunteers:

Work in office/provide administrative support – File, answer the phone, help with mailings
Work special events – Fundraising events, memorial services
Making Volunteer Work Digital
With telehealth so prevalent during the pandemic, many hospice patients have had to adapt to new technology skills.
There are many benefits to telehealth volunteer work:
Many hospices rely on volunteers to make calls on Fridays to patients and their families to ensure that they have everything they need for the weekend. A digital face-to-face is a great way to provide a personal touch during stressful times.
Volunteers can "visit" more patients more often with telehealth, which eventually helps with hospice Consumer Assessment of Healthcare Providers and Systems (CAHPS) survey scores.
Not having to leave home is a great incentive to garner more volunteers for your program.
Including technology in your program also widens your targeted volunteer age range. Younger participants (over 18 years of age) more likely to join.
Consider providing fun digital events (comedians and performers) for your patients. This is a way to safely engage patients and keep their spirits up.
National Volunteer Week is April 17-23, the perfect time to reevaluate your hospice program to keep up with the digital age.
Axxess Hospice, a cloud-based hospice software, provides a Volunteer Comprehensive Assessment, the ability to add volunteers to the plan of care, document volunteer and volunteer coordinator visits and access the Visit History by Date Range report to support compliance.