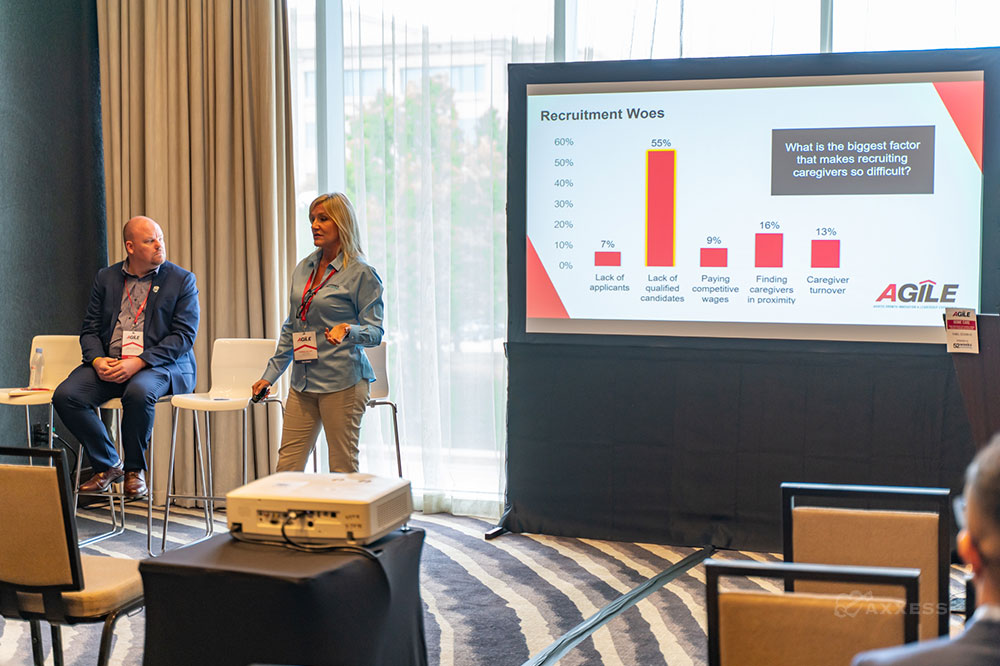 With Congress looking at legislation that supports more home-based healthcare programs and payers looking for lower-cost solutions, home care organizations have many opportunities for growth and expansion.
"What a time to be in home care, right? It's the new frontier," said Debbie Miller, Founder and CEO of 52 Weeks Marketing, LLC.
In a session at the 2023 Axxess Growth, Innovation and Leadership Experience (AGILE), Miller joined Brian Nelson, Senior Product Marketing Manager at Axxess, to discuss growing a home care business by diversifying programs and contracting.
Pillars of Success
To grow a business, organization leaders need a process. Nelson talked about a process called the Pillars of Success.
"We really are focusing on forming pillars and a foundation under that," Nelson said. The Pillars of Success focus on four things:
People
Promotion
Programs
Partnerships
It is important to have a person who promotes the business to build relationships with healthcare providers and create a steady stream of referrals. When marketing a program, determine what the organization does well, set goals and timelines, create program details and support materials, create a campaign, train staff and implement the program.
Organizations should also develop special programs and partnerships to address the challenges facing healthcare providers, such as staff shortages and rising costs.
Recruitment and Retention
Healthcare is continuing to face challenges related to staffing and recruitment. For home care organizations to grow, they need to be well staffed. "We can't grow if we don't have caregivers," Miller said.
Recruitment should focus on whom, how and where to target, as well as what motivates and inspires each person. Strategies to recruit successfully include:
Offering competitive pay
Recruiting outside of normal channels
Offering career paths for professional growth
Developing internal training programs to promote staff retention
Capitalize on Growth Opportunities
Along with recruiting and retaining talent, Miller encouraged home care organizations looking to grow to seek out and capitalize on opportunities. She broke down how to start:
Build pipelines: It's important for growing organizations to receive referrals from multiple channels. Build referral pipelines by engaging with seniors and their families who are seeking care, contacting providers who are looking for partners to help them accomplish their goals as they transition to home-based models, searching on Google and finding government programs.

Build relationships: Have frequent touchpoints with people organizations and organizations interfacing with seniors. A dedicated marketer can target the right places, including independent living communities, retirement villages and 55+ communities.

Use programs to transition relationships to partnerships: Focus on partners' pain points, including penalties, rehospitalizations, patient outcomes and chronic disease management.

Expand services: Offer home maintenance, care management and technology services.
By diversifying home care services, organizations can grow and become a one-stop shop for clients and healthcare providers.
With more than 250 attendees, more than 40 sponsors and countless connections made, AGILE 2023 was a massive success for everyone. Check out the recap video and mark your calendar for AGILE 2024, April 21-24 in Dallas.