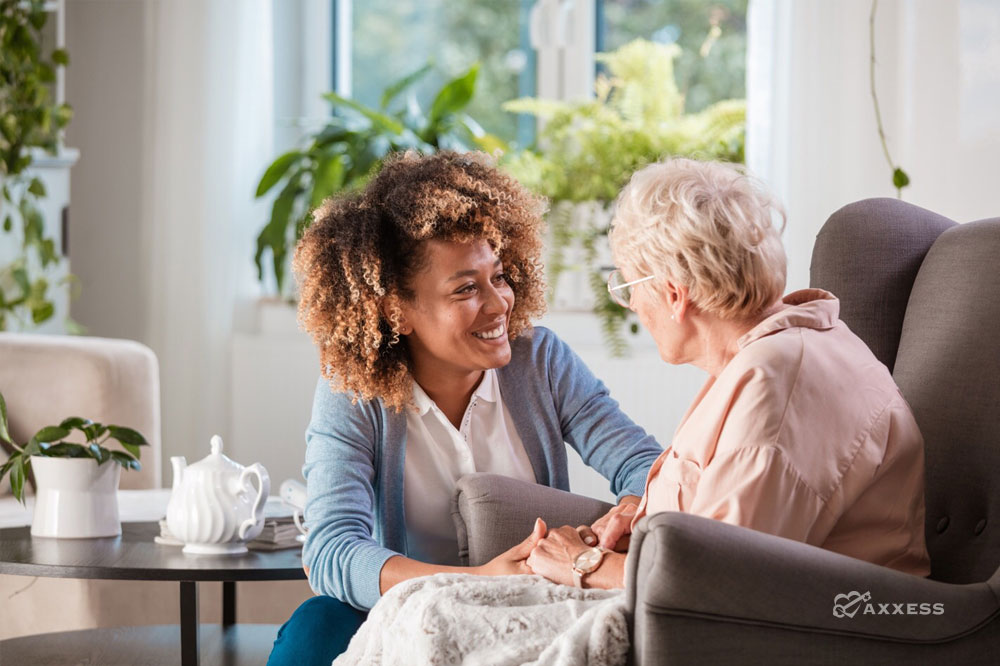 Like many people in the field of home healthcare, Peter Ross had a personal experience that piqued his interest and moved him into the industry. He shared his story during a recent episode of the Help Choose Home podcast. Formerly in marketing and sales leadership roles in nationally recognized companies like Intuit, ADP and Ernst & Young, Ross is the CEO and co-founder of Senior Helpers, a home care company that specializes in care for people with chronic health conditions like Alzheimer's disease, dementia and Parkinson's disease.
Healthcare at Home is Personal
For Ross, that personal experience was when his mother, then living in Maine, needed care. At the time, Ross was living in New York, and when he looked for options, the only possibilities he found were care facilities. Ross moved his mother out of her home because at the time he didn't know home care existed. The experience left an impression on Ross and he vowed to help educate people about home care and the options available to them as they age. He also committed to advocate for seniors to age in place.
In 2002 Senior Helpers was born out of Ross' experience with his mother. Combining his personal experience with his professional sales and marketing background, Ross has built a home care business that is focused on the importance of building relationships with referral sources and educating the public about home care. According to Ross, the success of Senior Helpers is that they aren't trying to be the jack of all trades. By focusing on individuals with Alzheimer's disease, dementia and Parkinson's disease, Senior Helpers' caregivers are specially trained to assist individuals diagnosed with these conditions, and can be more successful in helping them remain at home.
During the assessment process, Senior Helpers focuses not only on the individual, but looks at the entire family. Beyond the ADLs, what clinical, home safety, and emotional needs does the family have? According to Ross, "Less than 20% of what seniors need to age in place are clinical. The majority of the needs are emotional and social." By looking at a senior and his/her family through the social determinants of health lens, the entire family can be educated about the chronic health condition and learn how they can be part of the solution.
Reinventing Adult Day Care
Senior Helpers has recently launched a new partnership with the George G. Glenner Foundation to develop Senior Helpers Town Square. This adult day care concept revitalizes empty big box stores and uses the spaces to create a working replica of a 1950s town – complete with a diner, town square, city hall, park and movie theater. Senior Helpers Town Square uses reminiscence therapy and aims to serve all seniors who are dealing with isolation and need socialization opportunities.
The programming at the centers is designed to move seniors from place to place within the town, providing activities and socialization, all for as little as $11 per hour. As Ross sees it, by providing affordable adult day care options like Senior Helpers Town Square, older adults can benefit from the best of both worlds. Not only do the seniors have the opportunity to age in place thanks to family and professional caregivers, but they can also take advantage of adult day care programming to ward off isolation.
Advocating for Home Care
Ross also serves as president of the Home Care Association of America. This organization represents independent home care agency owners, as well as franchisees of the larger, national home care agencies, providing education, and most importantly, advocacy. Ross and the other members of the board work to make sure national and state legislation is friendly to the home care industry, and they educate payers and healthcare organizations about the value of home care.
For Ross, reducing falls, hospital readmissions, and unplanned ER visits, provides powerful examples that showcase the positive impact home care has on the overall health care industry. As the senior population continues to grow and this impact becomes more apparent, Ross believes the ways in which home care and adult day care are reimbursed and covered will change as well. According to Ross, the job of those in home care is to let people know that we are an essential part of the health care continuum, perfectly positioned to make a true impact on seniors, their families, how care is delivered in the home, and on the health care industry in general.
Listen to the full interview with Peter Ross in the Help Choose Home podcast series to learn more. This episode and others in the series can be found on iTunes or Google.
The Help Choose Home podcast series provides families and their loved ones information and resources about aging in place and home health care options. Podcasts are hosted by Merrily Orsini, executive vice president of Axxess and president and CEO of corecubed, an award-winning elder care marketing solutions company.
Help Choose Home is a collaborative effort by the National Association for Home Care and Hospice (NAHC), Axxess, and corecubed to educate the public about the many benefits of the in-home care industry, which includes non-medical home care, private duty nursing care, medical home health, hospice, and other in-home health and wellness services.