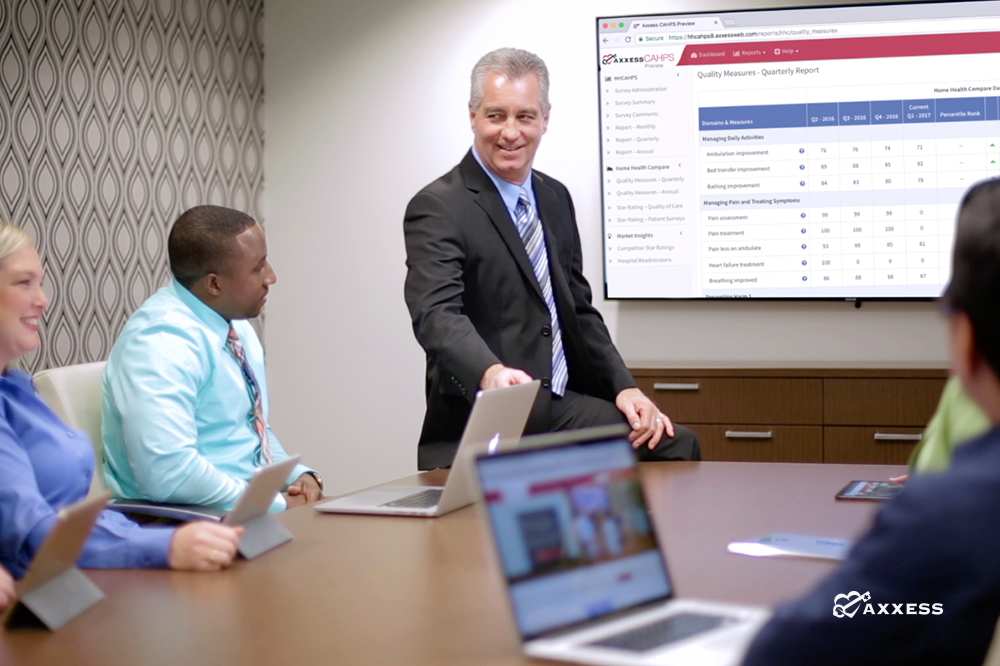 The Home Health Consumer Assessment of Healthcare Providers and Systems (HHCAHPS) patient engagement survey impacts the bottom line of home health agencies, primarily by attracting referral sources and value-based reimbursement. It is imperative for organizations to understand the HHCAHPS survey, and work on improving each measure to maximize long-term growth and sustainability.
Responsiveness/Getting Help or Advice – Question 22
Question 22 is one of six questions included in the Home Health CAHPS survey Communications domain, designed to assess how effectively healthcare providers communicate with patients about their treatment plans.
Communications Between Providers and Patients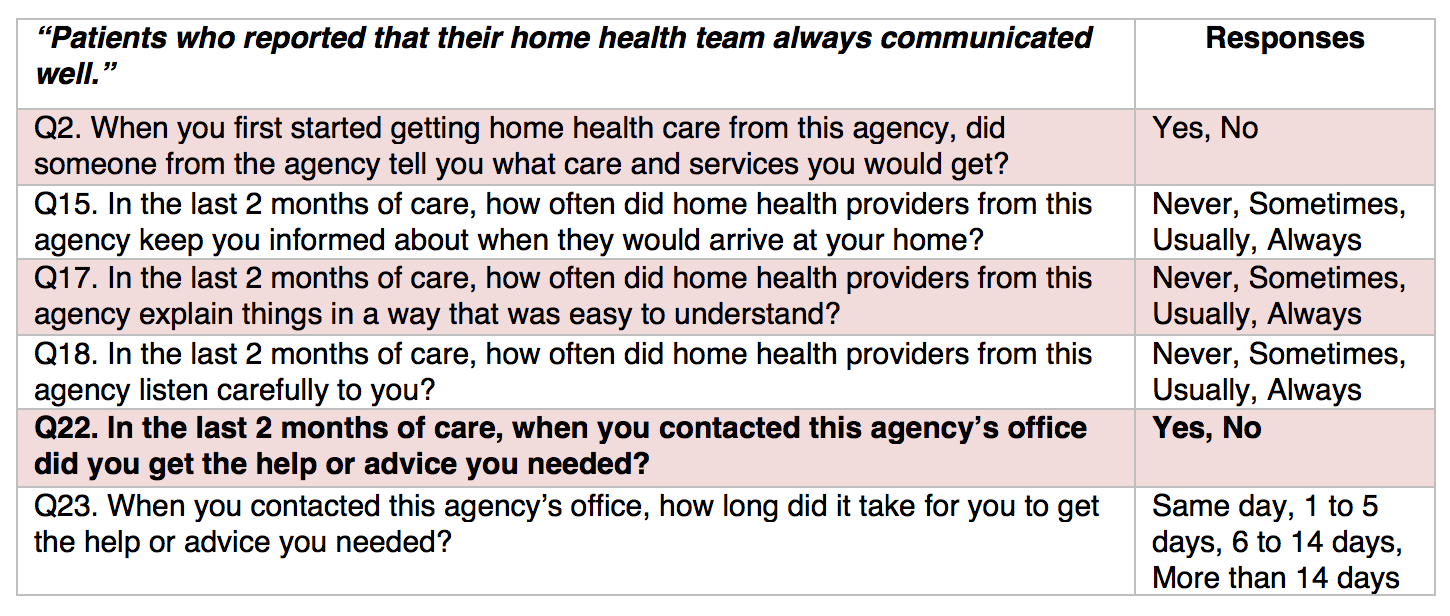 This question seeks to assess the patient's perception of whether contacting the agency's office to request help or advice resulted in the requested assistance. Optimizing performance on this question relies on healthcare organizations' ability to fulfill patient/caregiver requests in a manner patients and caregivers perceive to be effective.
Suggestions to Improve Responsiveness
Provide agency contact information to patients in several formats and at various times.
Ensure patient phone calls are prioritized based on urgency, and forwarded to the appropriate staff member as needed.
Follow up with patients and families at a later time to confirm appropriate help was provided.
Establish a set of structured agency standards for responding to patient/caregiver requests, and ensure agency-wide training is provided (and not limited only to staff members responsible for answering phone calls).
Pilot Study Reveals Some Best Practices
In a recent pilot study targeting clinical responsiveness, a multi-disciplinary group at Hershey Medical Center (HMC) developed a structured approach for responding to patient phone calls. The study involved itemized development and implementation of a Telephone Pathway Program, which the HMC group conclusively reported having positive effects on patient-provider communication and improving staff responsiveness to patient requests. Several steps taken in the HMC group's Telephone Pathway Program's development offer an operable framework for healthcare organizations to reference when improving responsiveness:
Identify patient inquiries and categorize as nonurgent, urgent, or emergent. Direct requests to the appropriate staff members, and in the established time frames based on urgency.
Define and delegate roles. Identify staff dedicated to managing incoming phone calls and redirecting patient requests as needed (e.g., office/administrative staff). The HMC study also designated individuals responsible for making clinical judgments (e.g., nurses, nurse practitioners, or physician assistants). These personnel carried a phone dedicated specifically to patient requests, providing administrative staff an immediate point-of-contact for managing urgent requests.
Develop an algorithm for handling requests based on urgency. A standard algorithm will ensure that administrative staff understands what actions to take once a request has been identified as nonurgent/urgent/emergent, and prevent potential mishandling of patient calls. For instance, the expected time frame for responding to nonurgent questions might be 24 hours, while urgent requests might need to be fulfilled within a one-hour time frame by someone with clinical expertise. Conversely, in circumstances of emergent requests (e.g., complaints of chest pain, shortness of breath, etc.) patients should be advised to contact 911 immediately, and the appropriate clinician should then be contacted and notified by administrative staff. While each healthcare agency's standard algorithm may not be this extensive, best practices should be coupled with available resources and adapted to the individual needs of the organization.
Document requests in patient records, and update documentation once requests are fully resolved. Maintaining organized documentation allows for follow-up correspondence with the patient, to verify responses were provided to the patient's satisfaction; and offers additional assurance that every patient request receives the appropriate attention and resolution needed to deliver a truly patient-centered care experience.
Check our blogs for the series on improving your agency's HHCAHPS scores by systematically reviewing each of the HHCAHPS questions and sharing opportunities for improvement.