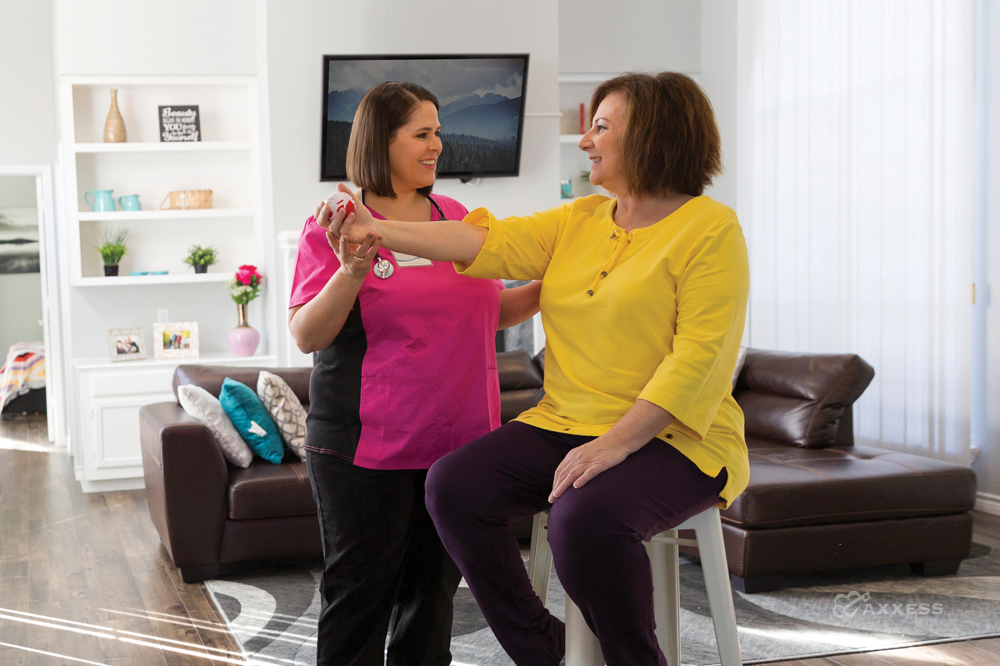 At Axxess, we know that the future of healthcare is in the home. We are always building innovations into new and existing products to meet industry needs and help our clients succeed. AxxessCARE is a scheduling and staffing solution that connects agencies with clinicians to overcome staffing challenges and make it easier to provide quality care. Since its launch in 2017, AxxessCARE has connected registered nurses and licensed vocational/practical nurses with agencies that have open visits. The newest innovation in AxxessCARE expands the type of visits and clinicians that can utilize the platform to include physical therapy visits.
The U.S. Census Bureau reports that the percent of the population that is 65 years or older will increase from 13.1 percent to 20.3 percent in the next 11 years. This will increase the number of home health patients, and in turn therapy patients. Physical therapy is an integral part of the home health care team and plays a major role in achieving optimal outcomes for patients. Two of the 12 PDGM groupers will have therapy as the primary need. In-home physical therapy services help homebound patients having problems with pain, muscle weakness, post-surgery debility or impaired functional mobility by improving endurance, restoring functionality post-surgery, improving strength, and preventing falls. When a patient is functionally independent, it protects them from depression associated with physical disability. Physical therapy is needed to improve patient outcomes, prevent deterioration of the disease process, and improve overall patient experience. This leads to agencies experiencing reduced costs and better star ratings.
Helping Agencies Meet Staffing Needs
Most agencies that need a physical therapist to meet staffing needs often must send a referral to a physical therapy contract company that will then send a contract physical therapist to complete the assignment. Agencies often pay large sums to the contract company and only a part of this fee is paid to the physical therapist for their services. The Bureau of Labor Statistics reports that there will be a 28 percent increase in the need for physical therapists over the next ten years.
Using AxxessCARE Is Easy
AxxessCARE is helping meet the growing demand for physical therapists with a new feature. Physical therapists and physical therapy assistants can download the AxxessCARE app from Google Play or Apple's App Store. Once the physical therapist or physical therapy assistant completes their profile they submit to license verification and background checks. They are only able to apply to visits once these checks are complete. Agencies can now use AxxessCARE to post their physical therapy visits.
From there, the process is identical to the easy way that AxxessCARE works for nurses. Physical therapists who are interested in visits can apply for an opening that is convenient to them at their desired pay rate. Agencies then review the applicants' profiles (including completed background checks, resume, clinical proficiencies) before selecting the ideal physical therapist for the patient. The physical therapist is not paid until all documentation is completed and approved by the agency's QA staff.
Benefits of Using AxxessCARE
Using AxxessCARE to complete physical therapy visits cuts out contract agencies that charge more money for the same amount of work. Agencies can use this platform to continue improving patient outcomes and meet patient goals by connecting with physical therapists easily to ensure patients always have timely care. The new physical therapy innovation on AxxessCARE empowers businesses to grow revenue and therapists to connect with opportunities in new and convenient areas. Learn more about AxxessCARE here.